Dr. Alexander J. "Lex" Lindsay, Jr., Ph.D., COLORADO STATE & DENVER 1952 Beta Tau & Delta Iota Chapters

Archaeologist & Anthropologist - Museum of Northern Arizona
Excavator of the original Old Town Flagstaff (at the base of Mars Hill along the railroad).
---
Dr. Philip C. Weigand, Ph.D., INDIANA 1959,
Lambda Chapter
Archaeologist & Anthropologist - Museum of Northern Arizona
Discoverer of a Lost Mexican Civilization 
http://www.saudicaves.com/mx/weigand/index.html
YouTube Video on Brother Weigand's work:
http://www.youtube.com/watch?v=sZc3ULf3V7w
http://www.youtube.com/watch?v=K3EoQVUcR08
---
Dr. David J. "Dave" Roddy, Ph.D., MIAMI 1954
, Alpha Chapter
Astro-Geologist,
U.S. Geological Survey, Flagstaff

"Cratering Scientist"

Internationally-recognized expert on impact cratering.  His work on the processes and effects of impact cratering contributed greatly to the recognition of the importance of such phenomena in shaping the Earth, Moon, and other terrestrial planets. Expert on the structure of Barringer's Meteor Crater
For more info and photos go to: http://astrogeology.usgs.gov/rpif/dave-roddy
Named in Brother Roddy's honor is the minor planet 3873 Roddy. http://books.google.com/books?id=VoJ5nUyIzCsC&pg=PA329&lpg=PA329&dq=david+roddy++++geologist&source=bl&ots=7hFFmDdfHH&sig=Bhd2VjZdJ0WgslArbnXroej5cRE&hl=en&sa=X&ei=4FASU_KWLqqMyAHivYHABw&ved=0CDgQ6AEwAw#v=onepage&q=david%20roddy%20%20%20%20geologist&f=false
---
Dr. George E. Ulrich, Ph.D., BROWN 1955
,  Beta Nu Chapter


Astro-Geologist & Lava Scientist, U.S. Geological Survey, Flagstaff
Brother Ulrich became known as the geologist who stepped into lava.  On Kilauea Volcano, Hawaii,
June 12, 1985, geologist George Ulrich had just taken a temperature reading of fresh lava, 2,079 degrees. Suddenly a lava crust broke, and Ulrich stepped into the lava over his boots but was protected by NOMEX burn-resistant clothing.  Another geologist pulled him out in about five seconds. Ulrich was flown to Straub Clinic & Hospital on Oahu for treatment of first-, second- and third-degree burns. He recovered fully.
Read more at:
http://www.filson.com/filson-life/2012/02/guest-blog-seth-isenberg-filson-on-the-volcano/
http://hvo.wr.usgs.gov/observatory/reg/smoke.html
http://www.nytimes.com/1986/12/10/us/predictable-kilauea-volcano-radically-changes.html
http://news.google.com/newspapers?nid=1345&dat=19850613&id=Dv5LAAAAIBAJ&sjid=rPkDAAAAIBAJ&pg=1991,2833578
http://articles.latimes.com/1985-06-14/news/mn-2540_1_kilauea-volcano
http://astrogeology.usgs.gov/HotTopics/index.php?/archives/55-USGS-Shoemaker-Center-for-Astrogeology-Dedication.html

---
Dr. Leonard J. Martin, Ph.D., WASHINGTON & WASHINGTON STATE 1952

Upsilon Upsilon & Delta Upsilon Chapters


Planetary Geologist

Lowell Observatory - Flagstaff

Joining the Aeronautical Chart and Information Center (ACIC) in St. Louis in 1963, Brother Martin came to Lowell Observatory in Flagstaff as a member of the ACIC team charged with preparing maps of the Moon in preparation for the Apollo Missions. When that job was completed in 1967, Leonard transferred to the Lowell staff and began work on a Mars cloud survey under the direction of William Baum. In the course of this investigation, he developed a passion for the Red Planet that continued undiminished through the remainder of his scientific career.
In 1969, Leonard continued his study of Mars as an International Planetary Patrol observer and data analyst. The Patrol, which was organized and operated by Lowell Observatory, under a NASA grant, consisted of a global network of similarly-equipped telescopes photographing Mars, Jupiter, and sometimes Venus and Saturn on a coordinated hourly schedule. Patrol photographs provided the basis for a number of investigations of Martian phenomena, which Martin undertook independently or in collaboration with Baum and others. Martian clouds, dust storms, and the advance and recession of the polar caps were of particular interest to Leonard, and, over the years, he developed an encyclopedic knowledge of Mars' historical photographic record. His papers on the dust storms of 1971 (which interfered with the Mariner 9 mission) and 1973 were particularly important.
Beginning about 1976, Martin became involved with Baum, Karl Lumme, and others in investigations of Mars based on data from the Viking orbiter. Subsequently, his collaborations expanded to include work with Phil James, Rich Zurek, Steve Lee, and others. He was a member of a team headed by James which used the Hubble Space Telescope in a number of Martian imaging investigations. Through all of this time, Leonard maintained a firm belief in the importance of continued synoptic imaging of Mars from the ground to provide the long-term context essential to full interpretation of the higher resolution space-based imaging. For many years, he championed the continuation of a barebones planetary patrol, and, in spite of an increasingly difficult battle with heart disease, made many observations himself using telescopes at Lowell and on Mauna Kea.
http://aas.org/obituaries/leonard-j-martin-1930-1997
---
Dr. Ted S. Price, Ph.D., NORTHERN ARIZONA 1970


Zeta Omicron Chapter


Assistant Professor -
Educational Leadership and Policy Studies


Virginia Tech
School of Education

http://www.soe.vt.edu/edad/faculty/price.html
---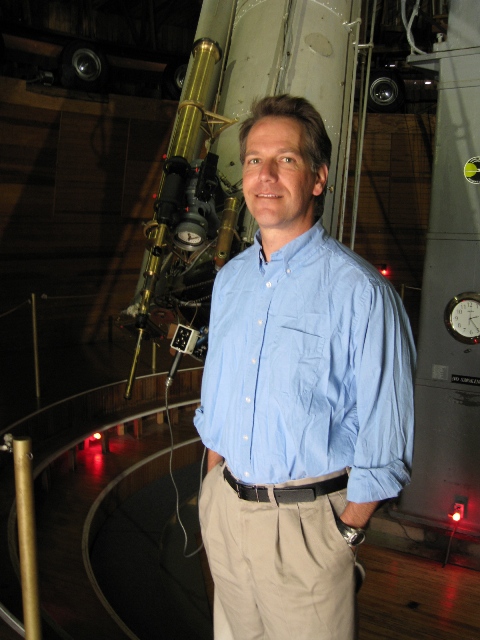 Dr. Gerard van Belle, Ph.D., WHITMAN 1990
Gamma Epsilon Chapter
Astronomer - Lowell Observatory, Flagstaff

http://www.lowell.edu/about_staff_vanbelle.php

http://en.wikipedia.org/wiki/Gerard_van_Belle

Gerard's research concentrates on the fundamental properties of stars — masses, linear radii, and temperatures. These parameters tell us about the internal structure and evolution of stars, which in turn is essential in understanding the plethora of new planets being discovered about nearby stars. He has also applied his interests in the highest-resolution, highest-precision, astronomical techniques to detect such planets and map the surfaces of stars.
Gerard has worked on every major optical interferometer on the planet, including the Infrared-Optical Telescope Array, the Palomar Testbed Interferometer, the CHARA Array, the Very Large Telescope Interferometer, and the Keck Interferometer. His pioneering stellar surface imaging work on PTI won him the first director's research award at the Jet Propulsion Laboratory.